Written by
 America has a stolen gun problem. Reports of firearms stolen from officers' patrol cars have already dominated headlines in 2020. For example, in North Carolina, a Charlotte-Mecklenburg Police Department task force said that 100 of the 250 guns they seized in January and February were stolen out of cars. Other reports estimate that one gun is stolen every 90 seconds, equating about 380,000 stolen firearms each year.
Agencies pay a hefty price for stolen firearms and valuables. Not only does it cast a shadow on the affected agency, but it also can result in firearms falling into the hands of criminals that law enforcement is supposed to stop.
For many departments that means beefing up their firearm storage systems inside cruisers with heavy-duty, secure storage like those from TruckVault. These storage solutions, which are made in the U.S., include strong push-button locks, protection from condensation, fire and dust and grit.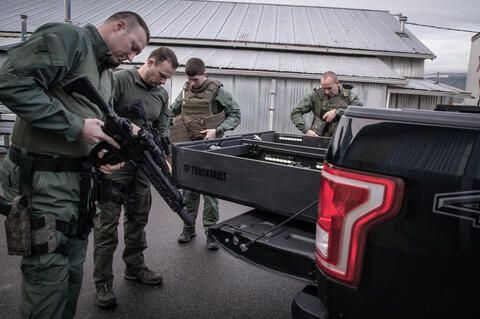 What this often means for officers is that they can go about their business with the peace of mind that comes with knowing that their weapons and critical gear will be exactly where they left it and there when they need it.
All it takes is for a savvy criminal to jimmy a door for your items to get into the wrong hands. Since gun theft has been on the rise, police have warned civilians to "lock it or lose it." Police are familiar with the lengths criminals will go through to unlock even the most secure-looking storage systems, so finding the right storage system matters more than ever.
To curb firearm thefts, some states have enacted laws designed to punish gun owners who leave their firearms vulnerable. Now some agencies, like the Atlanta Police Department, issue fines and suspension for officers in violation of the department's gun storage rules.
When heavy metal isn't the answer to your patrol car's vulnerabilities
You would think that these highly secure in-vehicle storage systems would be made out of metal, but they're actually manufactured from medium density overlay, a tough, weather resistant material that comprises highway sign boards and is used in construction due to its durability and strength. Advantages of MDO over metal materials include its comparatively lighter weight, low moisture retention and no banging or rattling noises when the items inside move around when the vehicle is on a bumpy road. Another advantage is that with wood, the inside of the drawers stays significantly cooler than the outside temperature which is important for those living in a warmer climate.
 TruckVault storage systems can haul and support over 2,000 pounds and are made to fit inside a variety of vehicles, including sedans, SUVs and pickup trucks with a canopy or cover. Although  all of their products are water-resistant, the All-Weather series is completely waterproof (along with dust and humidity) and made for open vehicles.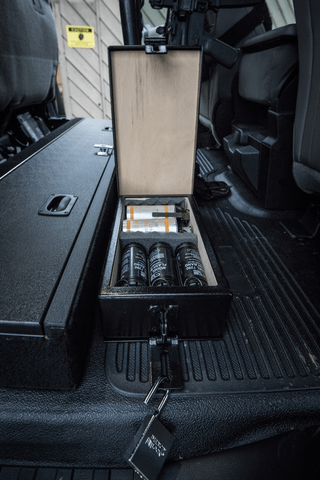 It's not just firearms that are vulnerable
For Detective John Robinson of the Dallas County (Texas) Sheriff Department's Vehicle Crimes Unit, the decision to furnish his team's vehicles with TruckVault systems came easy.
As part of a unit that handles all traffic fatalities and reconstruction, Robinson and other officers would often drive around with photogrammetry markers used to reconstruct crash scenes, along with cameras, laptops and other valuables.
"We used to stack up the evidence markers in milk crates [more than 10 years ago], and they weren't secure. They could come flying out and hit one of us if we ever got in a crash," said Robinson. "We needed our equipment to be secure and not bounce around."
Robinson and his team knew that an in-vehicle storage system would address their storage problem, so they considered multiple options and landed with TruckVault for its durability and customization features.
"We liked that we could design certain compartments to meet our needs. Now we can fit our Pelican cases, cameras, laser lidars, laptops, rifles and everything we use for everyday patrol needs as well," he said. "My advice for finding the right system is to start with figuring out what your needs are."
A longtime TruckVault user, Robinson says he's seen other Dallas County departments, such as the county's tactical and evidence units, choose TruckVault for their detectives and officers.
With  the level of security  that a TruckVault storage system provides, officers can go about their business with the peace of mind that comes with knowing that their weapons and gear are safe and available at all times. TruckVault sales director Anders Gidlund said Robinson's experience is just what the company intended.
"It's about making sure that their stuff is exactly where they want and where they need it," said Gidlund.
Find the original article here: https://www.policeone.com/police-products/vehicle-equipment/storage/articles/lock-it-or-lose-it-this-in-vehicle-storage-system-stores-and-secures-police-valuables-like-no-other-8NGHrHjhlOpovcsL/